Breyer Model Horse Shows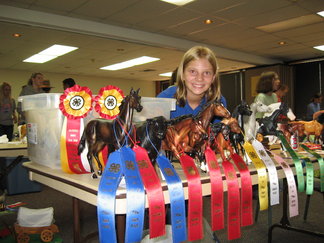 Breyer Model Horses have served as a "first horse" for generations of kids. But did you also know that you can show them, too?! Model horse shows are both fun, easy, and a great way to enter the wonderful world of showing horses and competition.
The North American Model Horse Show Association (NAMHSA) is the governing body for recognized model horse shows. These shows entitle competitors to compete and qualify for the North American Nationals (NAN) shows held as a national championship show annually. Alabama is located in Region 6 for the NAMHSA
MAY 18 - Central Alabama Fun Model Horse Show Located at the Red Barn in Oak Mountain State Park! 8:30 set up, show starts after 9:00am - for class information, go to http://222047746381441809.weebly.com/may-fun-show.html
SEPT 21 - Central Alabama Live Model Horse Show - http://222047746381441809.weebly.com/cal-sept-2013-entry-form.html
Alabama Horse Shows is a free website - we only have our merchandise sales, sponsored advertising pages, and donations to support the hosting, IT, advertising/promotions and administration of the site. We appreciate your donations of any denomination!

---
San Domingo Gift Set

Traditional with Book
$38.15