Dressage Shows in Alabama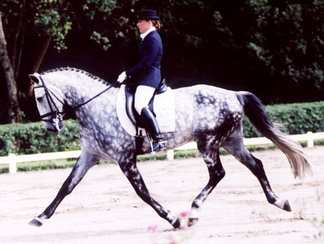 Alabama plays host to a variety of dressage schooling shows throughout the state. USDF Recognized Dressage Shows are not as common, unfortunately.
Dressage is a classical, centuries-old training program to develop a horse that is both athletic, extremely ride-able, and obedient. Dressage shows test the correct training of the horse, and offer numerous levels with prescribed "tests" that are judged individually. The most famous dressage horses in the world are the Lippizan Stallions of the Spanish Riding School of Vienna.
List your dressage schooling show with us, boost dressage interest throughout the state, and help us bring back more USDF/USEF recognized shows!
2013 Dressage Shows
FEB 23 - Bare Bones Farm Schooling Dressage Show and CT - RRDCTA Recognized - Shorter, AL - contact Lorna - [email protected]
APR 13 - Birmingham Dressage & Combined Training Association Spring Fling - Inanda Stables at Shoal Creek, Birmingham, AL - www.bdcta.com
Alabama Horse Shows is a free website - we only have our merchandise sales, sponsored advertising pages, and donations to support the hosting, IT, advertising/promotions and administration of the site. We appreciate your donations of any denomination!

---
The Performer Note Cards

The Performer Note Cards from TF Gauntt Fine Art
$16.19
Devon Note Cards

Devon Note Cards from TF Gauntt Fine Art
$16.19
Dressage Rider Note Cards

Dressage Rider Note Cards from TF Gauntt Fine Art
$16.19
Drive Note Cards

Drive Note Cards from TF Gauntt Fine Art
$16.19
Dressage Queen Note Cards

Dressage Queen Note Cards from TF Gauntt Fine Art
$16.19
Horse Tack Note Cards

Horse Tack Note Cards from TF Gauntt Fine Art
$16.19
Tall Boots Note Cards

Tall Boots Note Cards from TF Gauntt Fine Art
$16.19
The Performer Napkins

The Performer Napkins from TF Gauntt Fine Art
$5.45