Equestrian Benches & Furnishings for Your Home and Stable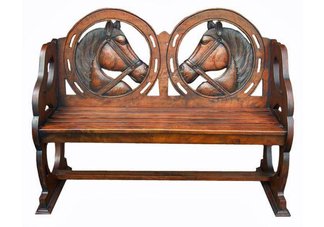 We love horses in the barn and in the house. Enjoy your horses in your home in a practical way. Our Equestrian Furnishings and horse/barn benches were chosen for their quality construction, attention to detail, and ability to compliment good homes.
Choose a piece for your home or stable. They will stand the test of time - in design and construction.
Our exclusive commercial grade custom equestrian logo bench is our most unique piece. Just send us your horses name or the name of your barn (including logos) and we will etch it into the back of the bench. Our custom equestrian benches carry a 10 year warranty! Once your logo/name is cut out of the steel, the bench is then dipped into a thermo-plastic coating that is available in 15 colors. This bench will not rust, fade, or break down over time. A truly unique piece!
---
6' Custom Diamond Logo Bench

Park Bench - 265 lbs.
Use Your Own Logo
$1,031.46
Horseshoe Fire Pit

Outdoor Fire Pit
$267.80
Black Charleston Bench

Semi-Matte Black Finish
$420.61